FindACure
UX Research and Responsive Website Redesign for Rare Disease UK Charity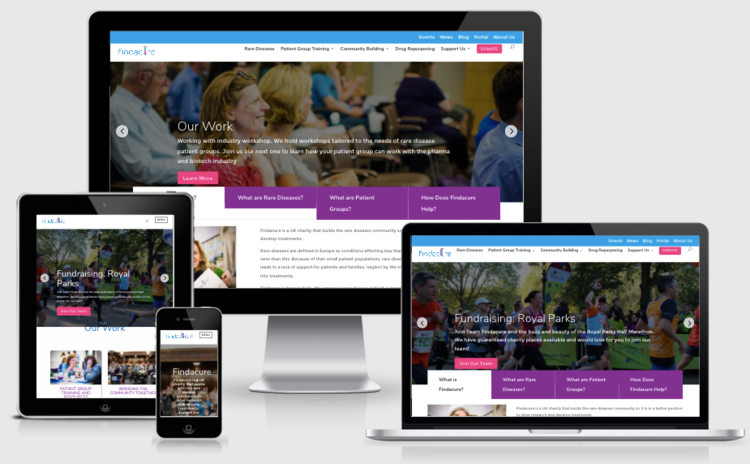 About FindACure
Findacure is a UK charity that is building a rare disease community to drive research and develop treatments. They help transform the world's understanding of rare diseases and the devastating impact they have on people's lives.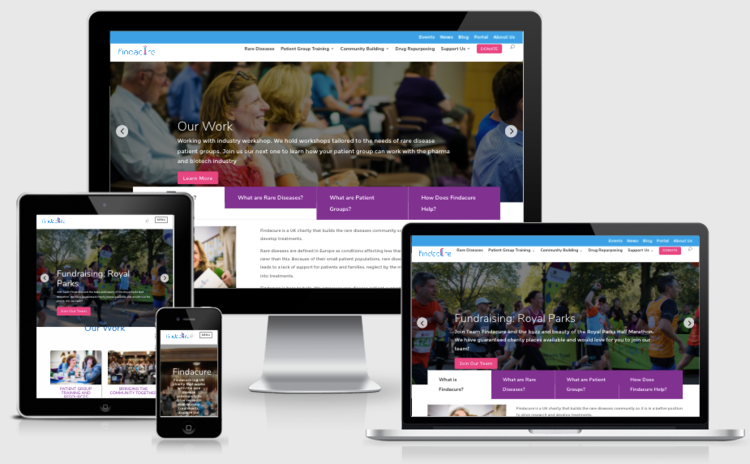 Project Scope
Findacure's website needed a redesign for better usability. We worked together to streamline the experience for users to find information about rare diseases, patient training, register for upcoming events, gain knowledge about drug repurposing and make it easy to get involved and support Findacure.
The Solution
UX research was done to uncover updates needed to improve the website's information architecture and overall user experience.
The final solution was a responsive WordPress website with redefined categories, simpler navigation patterns, and user flows.

Goal 1: Access information about rare disease
Our user survey revealed the top reason 66.7% of visitors came to Findacure's website was to learn about rare diseases. Therefore, the new website navigation included a top-level navigation link for a rare disease page.
Goal 2: Access Patient Training
33.3% of visitors wanted to view past patient group training events, including workshops and webinars. As a result, we made it easier for the website user's to access this information by including patient group training in the top-level navigation and sub-navigation links for previously recorded workshops, webinars, mentoring, and e-learning portal.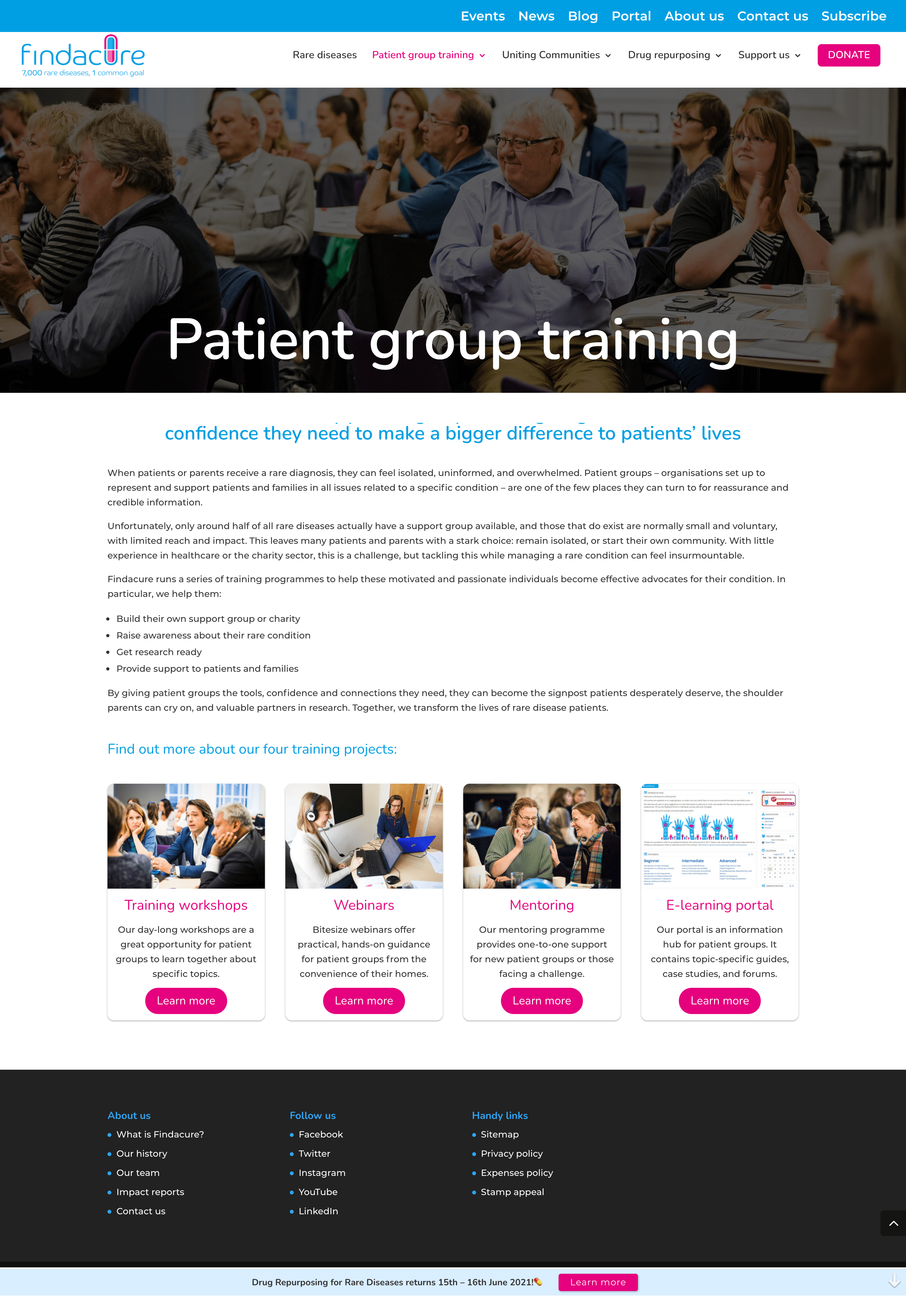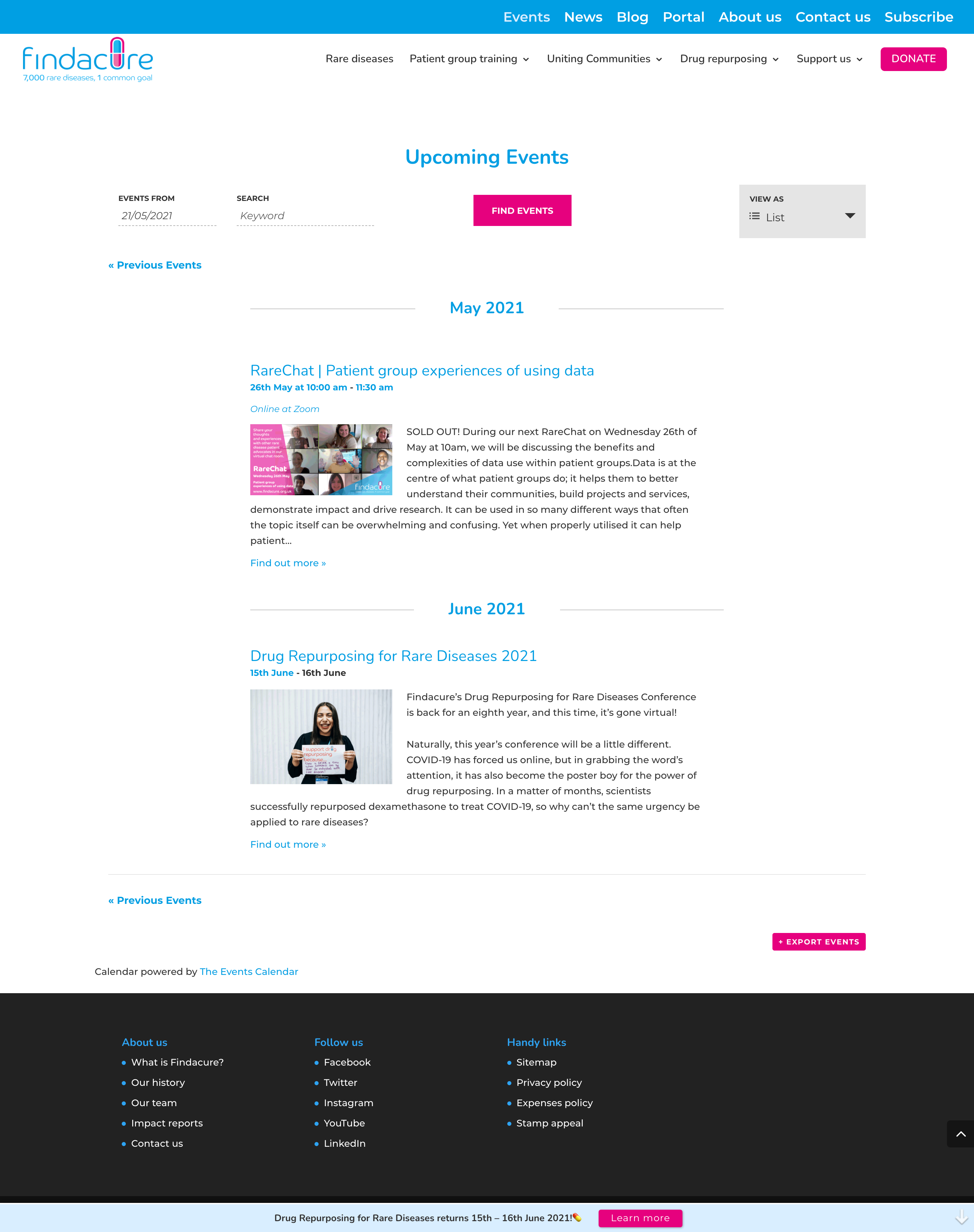 Goal 3: Create a Calendar View For Easy Registration of Upcoming Events
In the previous website, visitors were unable to view upcoming events in a calendar format. Many website users wanted to register for upcoming events easily. An upcoming events page with a calendar view was added to the new website.

Goal 4: Gain Information About Drug Repurposing
Drug repurposing is valuable to the rare disease community as many have no treatments available. Based on previous knowledge from Findacure interactions with their community, we determine it advantageous to have this information for this program easily accessible on the new website.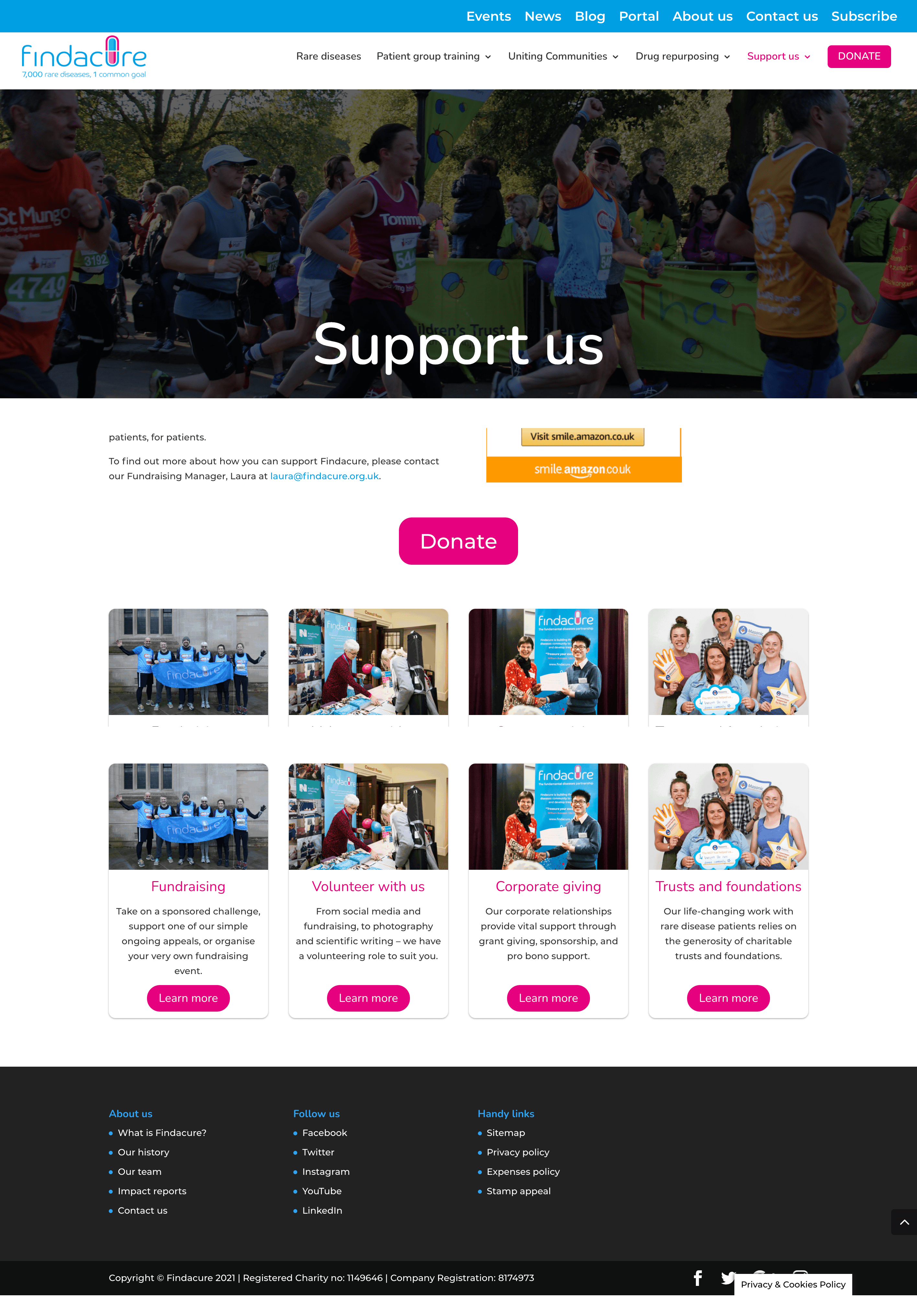 Goal 5: Allow people to get involved
Findacure's success depends upon the involvement of their community and volunteers. The new website navigation highlights ways for visitors to support and volunteer.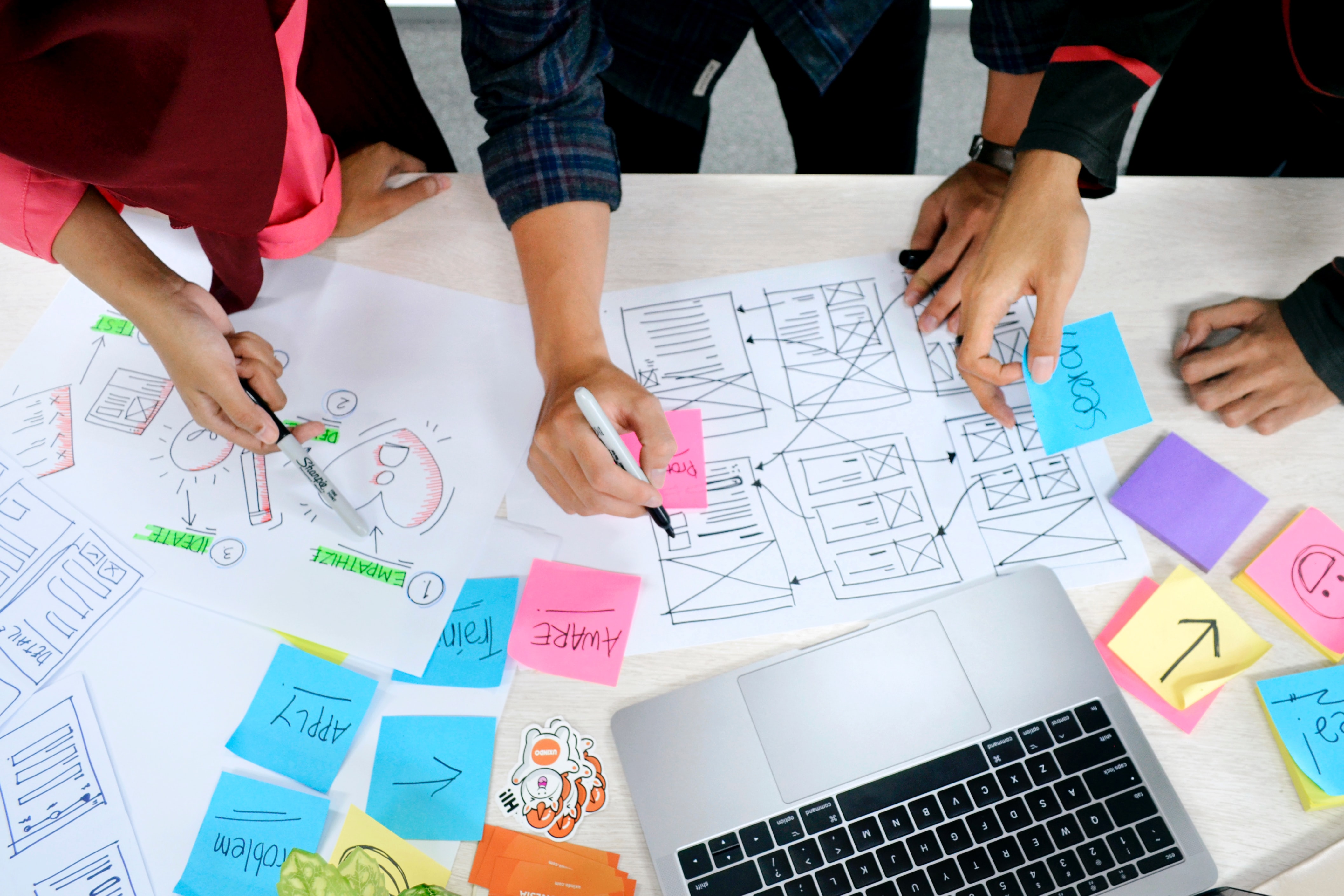 Content Audit + Card Sorting
Initially, I conducted a content audit and card sorting exercise to structure, organize and better label the website navigation.
Survey
Next, we performed a user survey to understand how the website visitors were interacting with the website before moving into the redesign.
We discovered that their user base was patients with rare disease, caregivers, and those who participated in fundraising events.
Why users were visiting the website:
66.7% - Accessing information about rare diseases

33.3% - Find general information about Findacure, including what we do, our team and our history or contact the Findacure team

33.3% - Find out about past and/or register for future patient group training events, including workshops and webinars

22.22% - Access our online resources portal and connect with others through its forums
What users were hoping to see in the redesign:
87.5% - Calendar view of all upcoming events

25.00% - Being able to search the calendar by event type (such as networking, fundraising, webinar event)
Tree Jacking
Next, we conducted a tree jacking with optimalworkshop.com to understand further how users were grouping IA categories and flowed through the website.
Where would visitors go to find information and resources to set up and grow a patient support group?
Final Results:
Most visitors went to our work tab on the old website. In the updated version of the website, emphasis was decided to given to having patients/caregivers connect within the rare disease community.
Where would visitors go to find out more about Findacure's drug repurposing project?
Final Results:
Again, we discovered that visitors were going to our work navigation link. We decided that this was important enough that the drug repurposing program should be a highlight in the top navigation of the redesigned website.
Where would visitors go to find that a conference that highlights progress in rare disease research?
Final Results:
89% of testers said they would visit the Calendar Events tab. Due to this, we include an event's calendar page in the website design.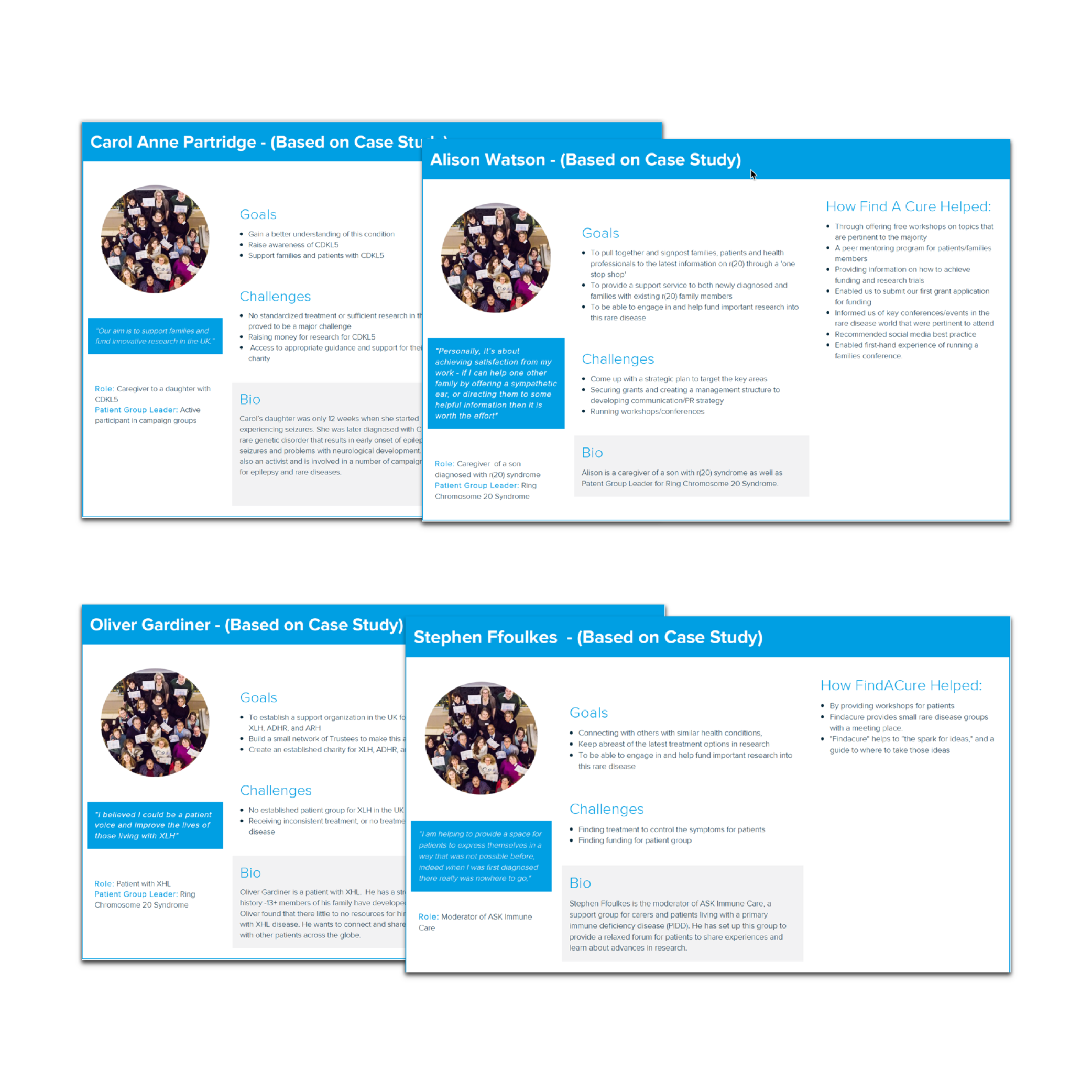 Personas
Based on the previous case study studies that Findacure created and user survey, we designed user personas representing their current user base that attended their workshops, webinars, in-person events and reached out for support.
They included:
Rare disease patients

Caregivers of person's with rare diseases

Moderators for rare disease communities