Chorely
Making chore collaboration simple, easy, and effective for parents and children.


Project in Process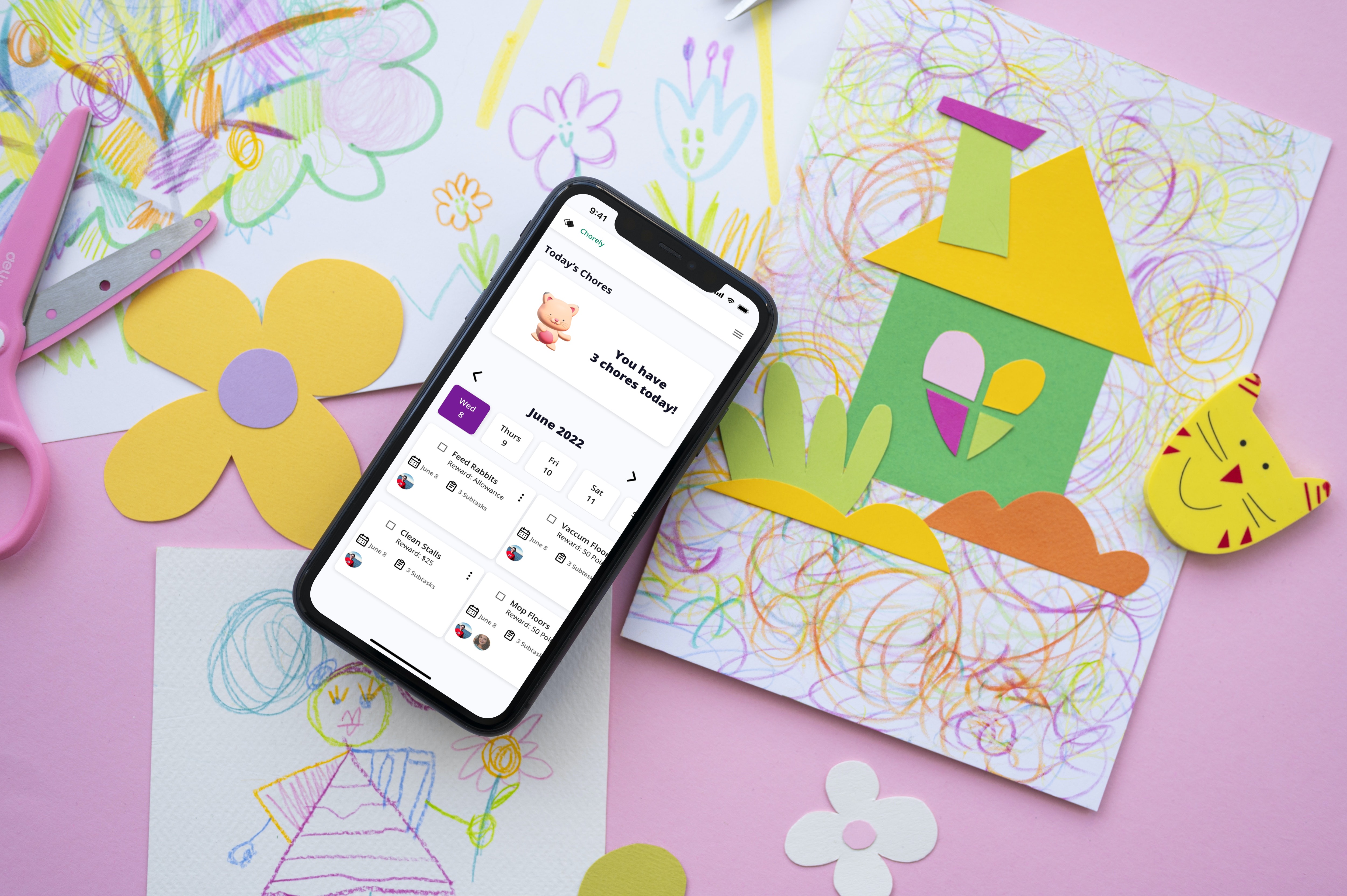 Product Overview
(Project in Progress)
Chorely will be a native mobile and responsive web app that saves time for parents by:
Allowing for easy viewing and approval of chore completion

Giving rewards for responsibilities or chores completed
Teens and children will easily be able to:
Know when their chores are complete and have been rewarded for their work.

Adjust the experience for children's age and ability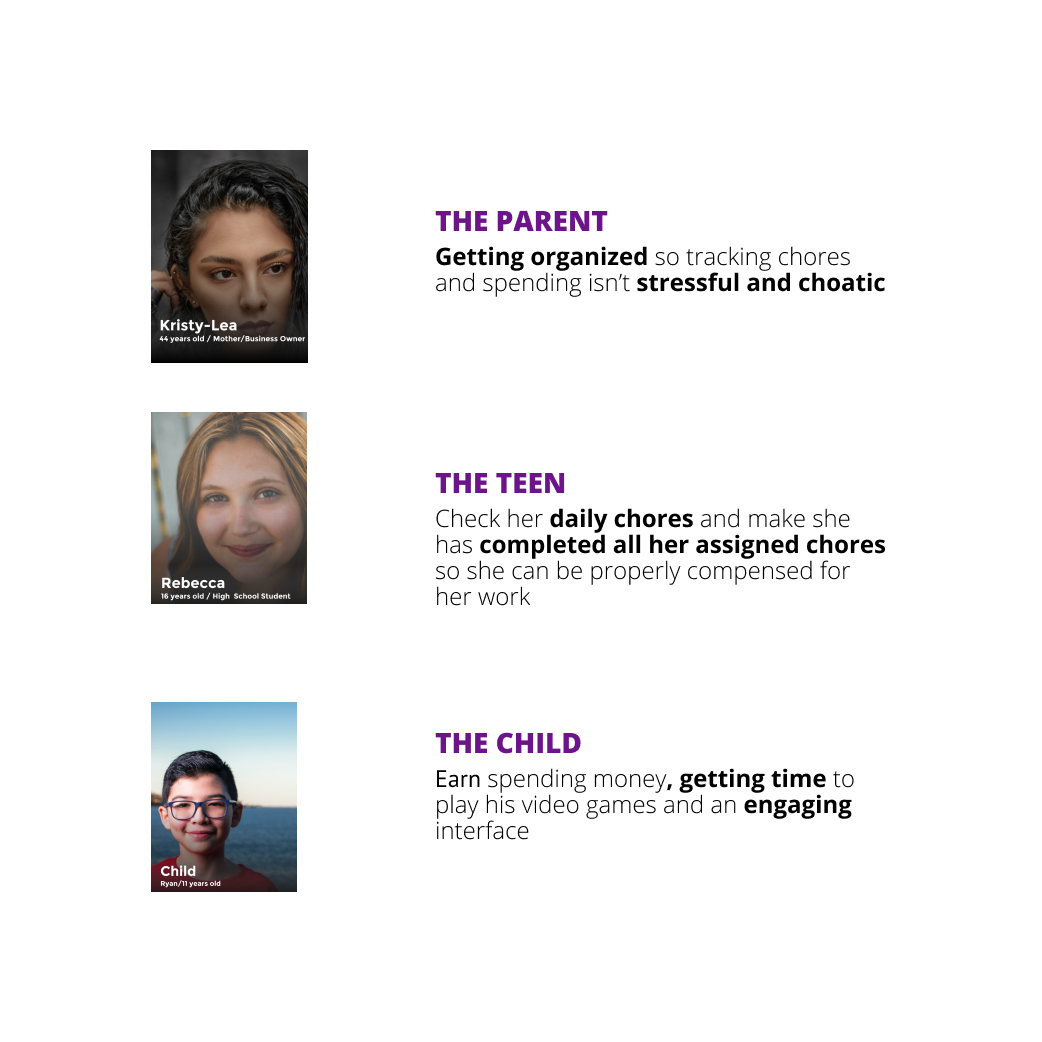 User Research + Personas
During user interviews, three groups of users emerged parents, teens, and children, each group had a unique need set.
Parent research quote:
" We need to track our kid's allowance, chores and spending it such a cluster mess when it comes to that. Nobody knows who did what and earned extra for doing what. Where it was spent and who has how much left."
Teen research quote:
"I want to help mom and dad, but I don't always know what they would like for me to do."
Child research quote:
"I need reminders so I know what chores I need to do each day. I like to see fun animation when I complete a chore. I want to know when Dad adds more money."

Parents
No current system to monitor her children's chore completion and spending

Currently using Google spreadsheet to track allowances, it isn't easy to share or remember to update

Getting children to complete chores is chaotic and frustrating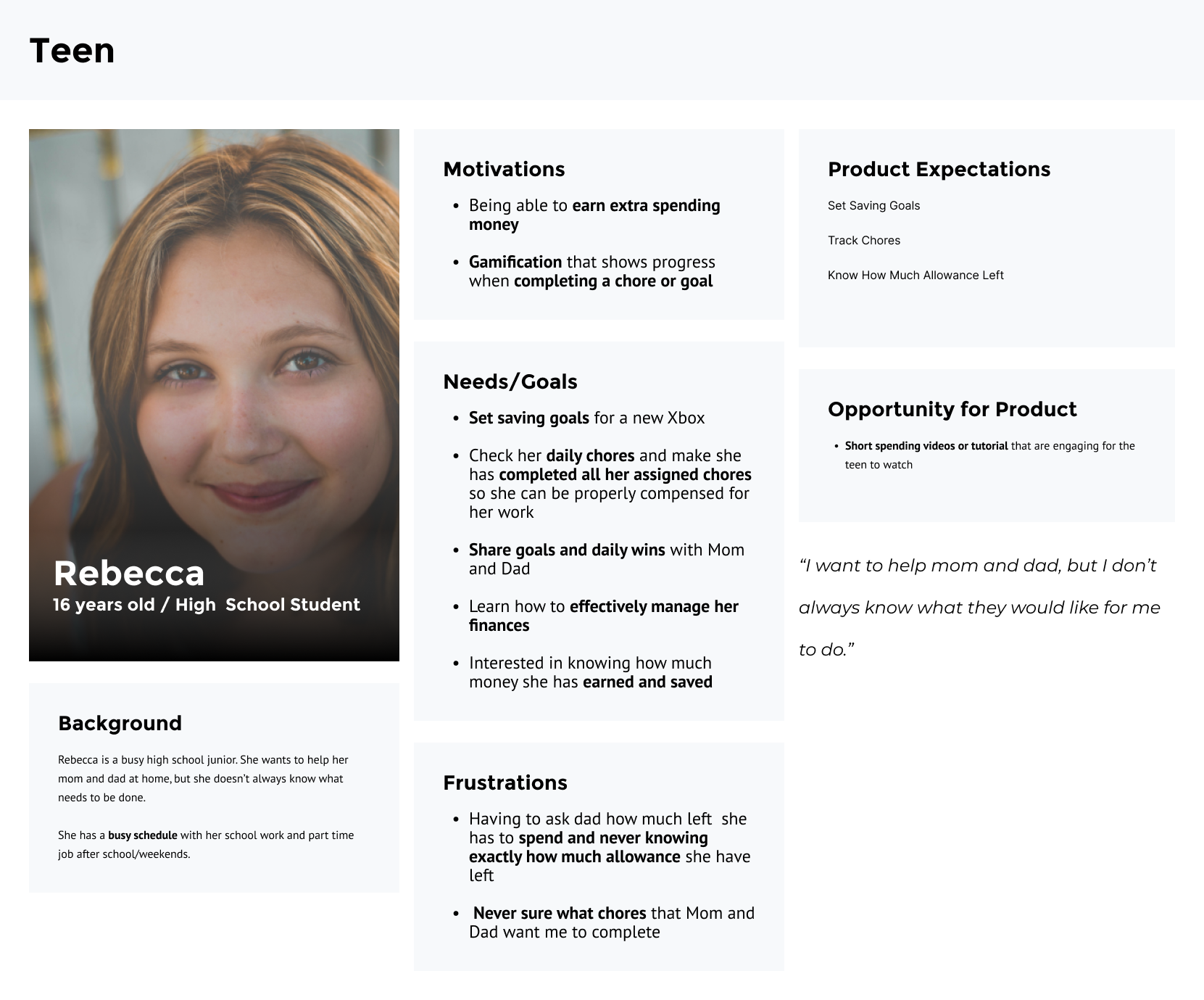 Teens
Having to ask dad how much left she has to spend and never knowing exactly how much allowance she has left

Never sure what chores Mom and Dad want me to complete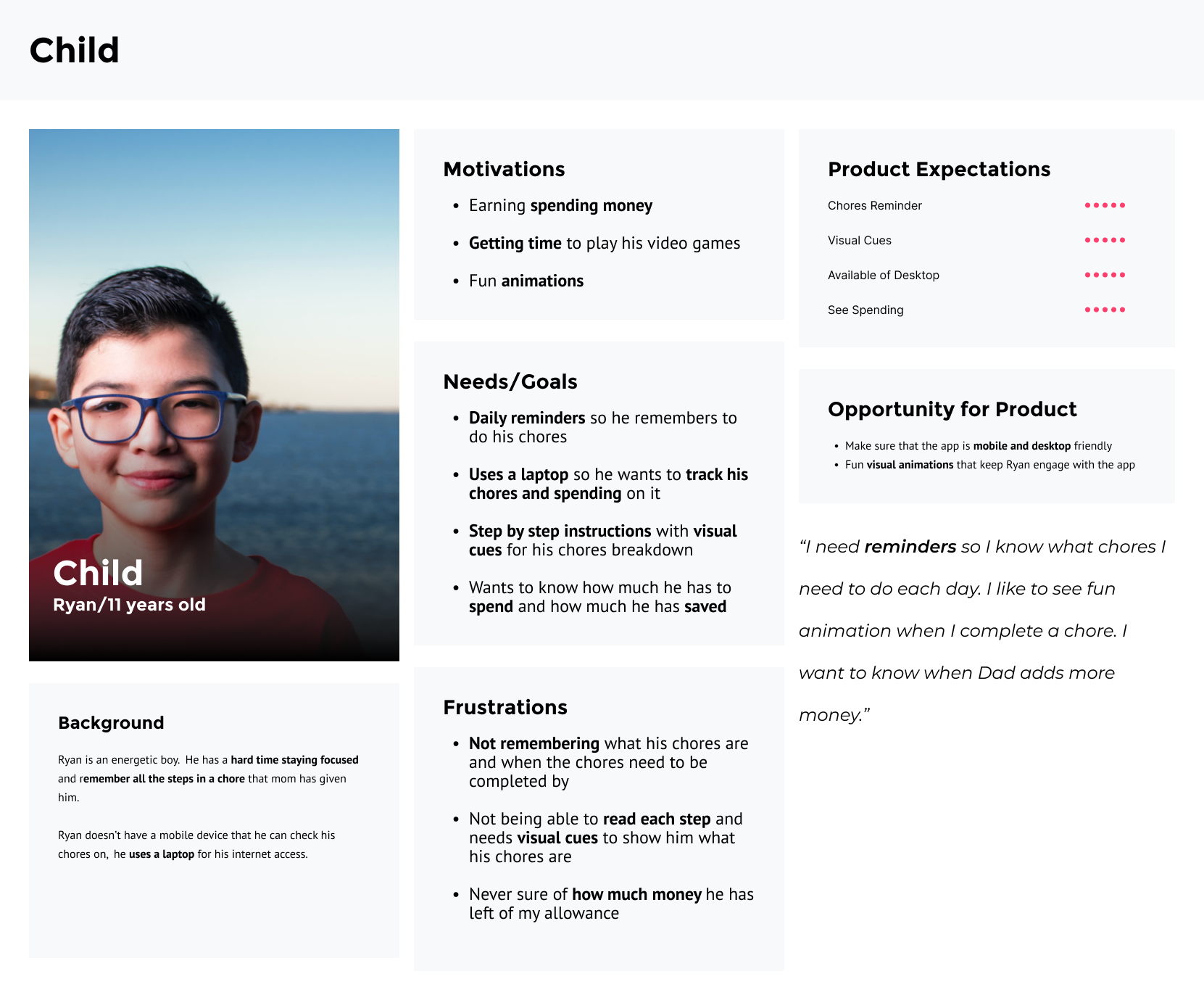 Child
Not remembering what his chores are and when the chores need to be completed by

Not being able to read each step and needs visual cues to show him what his chores are

Never sure of how much money he has left of his allowance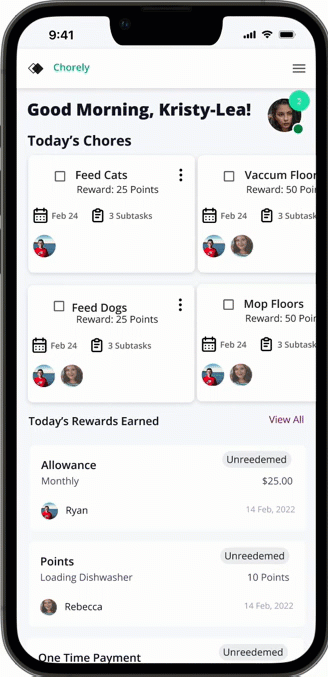 1. Managing Multiple Children
Kristy-Lea needed a place to manage all of her children's chores in place.
___________________________________She is easily able to add all of her children to the interface as she needs.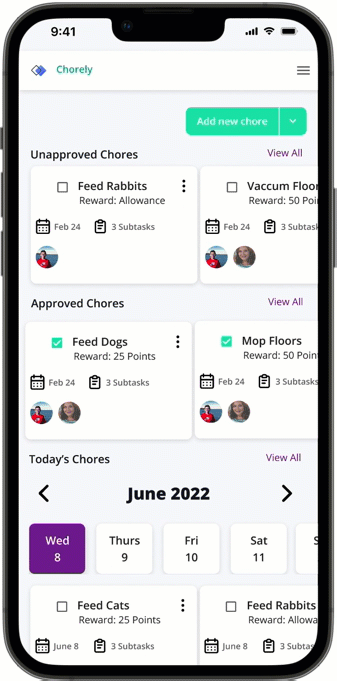 2. Managing Chores
Kristy- Lea wanted a simple process where she could let her child know whether or not a chore was completed.
_______________________________________________________________
She can easily add chores that will be assigned individually to one child or a shared task for the children to work on as a team.
___________________________________________________________
She can mark a chore as unapproved, need revision, or approved. The chatbox provides quick collaboration between parent and child.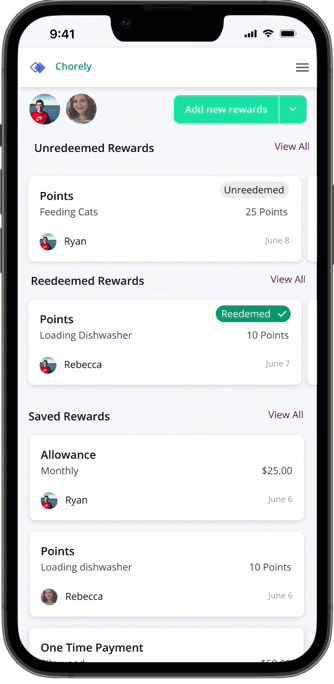 3. Rewards
This feature is still in development.
Kristy-Lea can choose from four types of rewards to incentive her children for tasks completed.
_______________________________________________________________
Points can be awarded for the child to redeem for other reward types when desired. Parents will be able to determine what each point is worth.

Allowance can be determined set up o a weekly, bi-weekly or monthly basis.

One Time Payments are awarded for tasks that occur once.

Time-Based rewards are based on awarding children with time allotments rather than a monetary reward.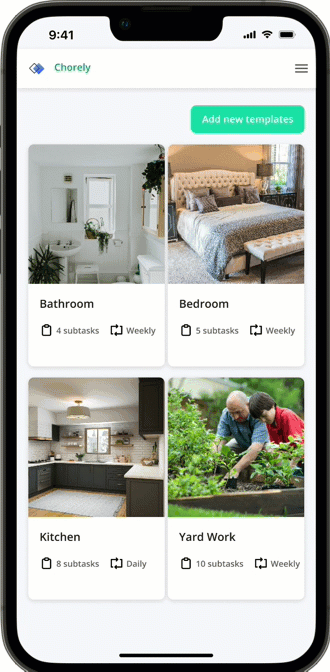 4. Chore Templates
This feature is still in development.
Kristy-Lea wants a way to save recurring task groups as templates that she can reassign at a later date.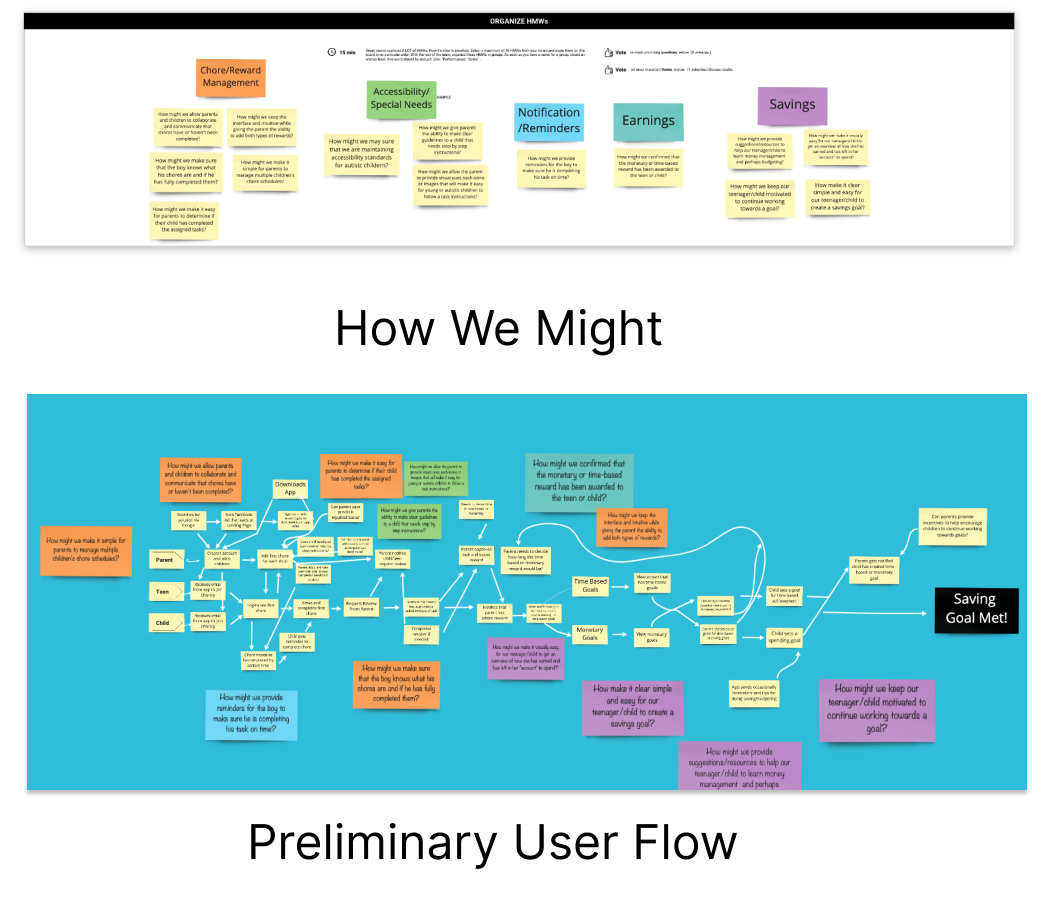 Long Term Goal:
Chorely will be used by 10,000 families to help manage chores and rewards.
Sprint questions:
Can we create an app that helps families to monitor the children's chore completion?

Can we build an app that will include incentives/rewards for actively engaging in children's daily chores?

Can we create an app where both parents and children are easily able to collaborate and communicate?
How We Might question into organized into five categories:
Chore/Reward Management

Accessibility/Special Needs

Notification/Reminders

Earnings

Savings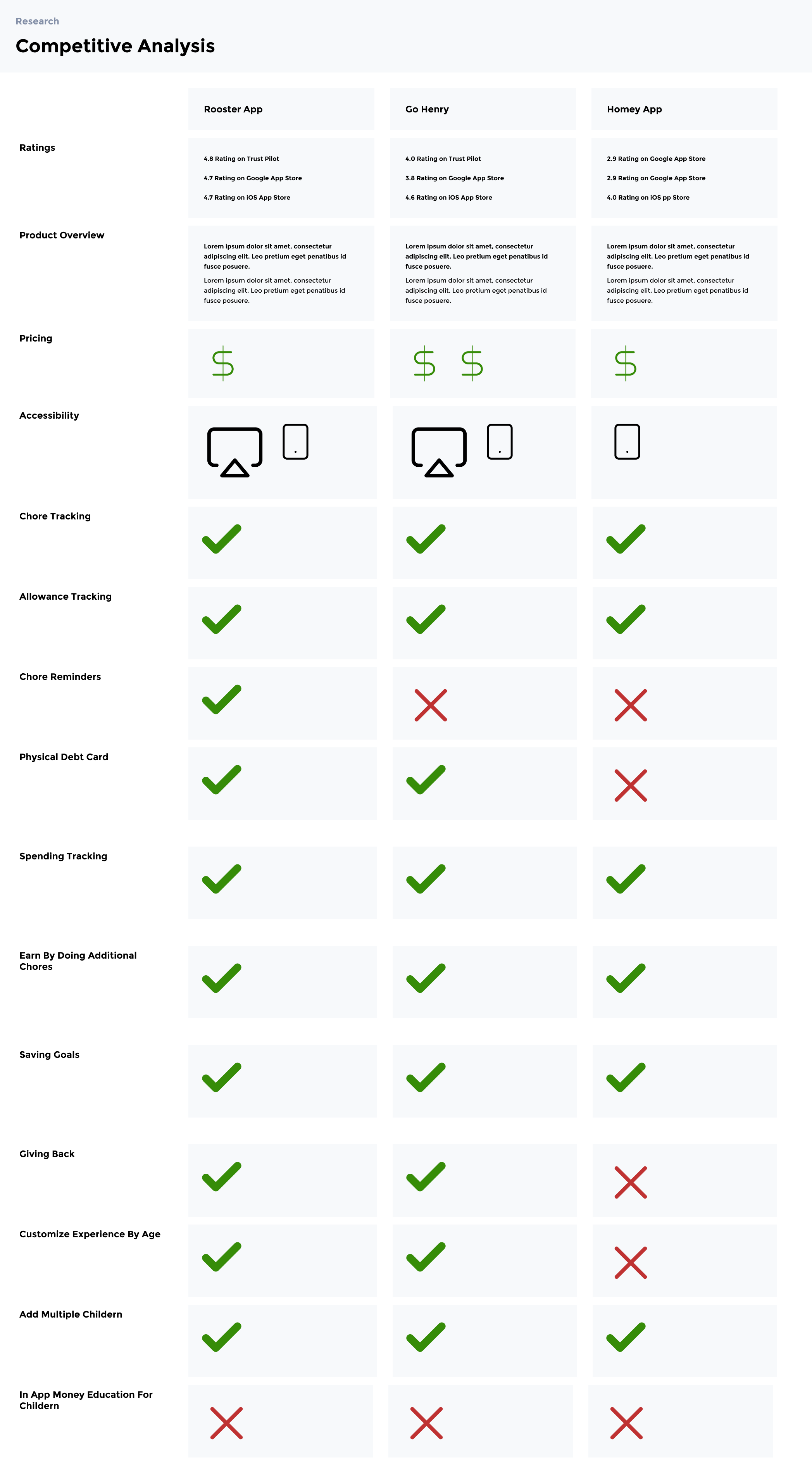 Competitive Research
The research process with a SWOT competitive analysis of existing chore apps to see if there were commonly missing features or flows'; I analyzed Rooster, GoHenry and Homey.
Three common issues I found:
Chore reminders were missing

Being able to give back to charitable causes if wanted

Customizing the app experience by age or needs

Providing in-app education for children
Site Maps
Below is the navigation pattern for Chorely.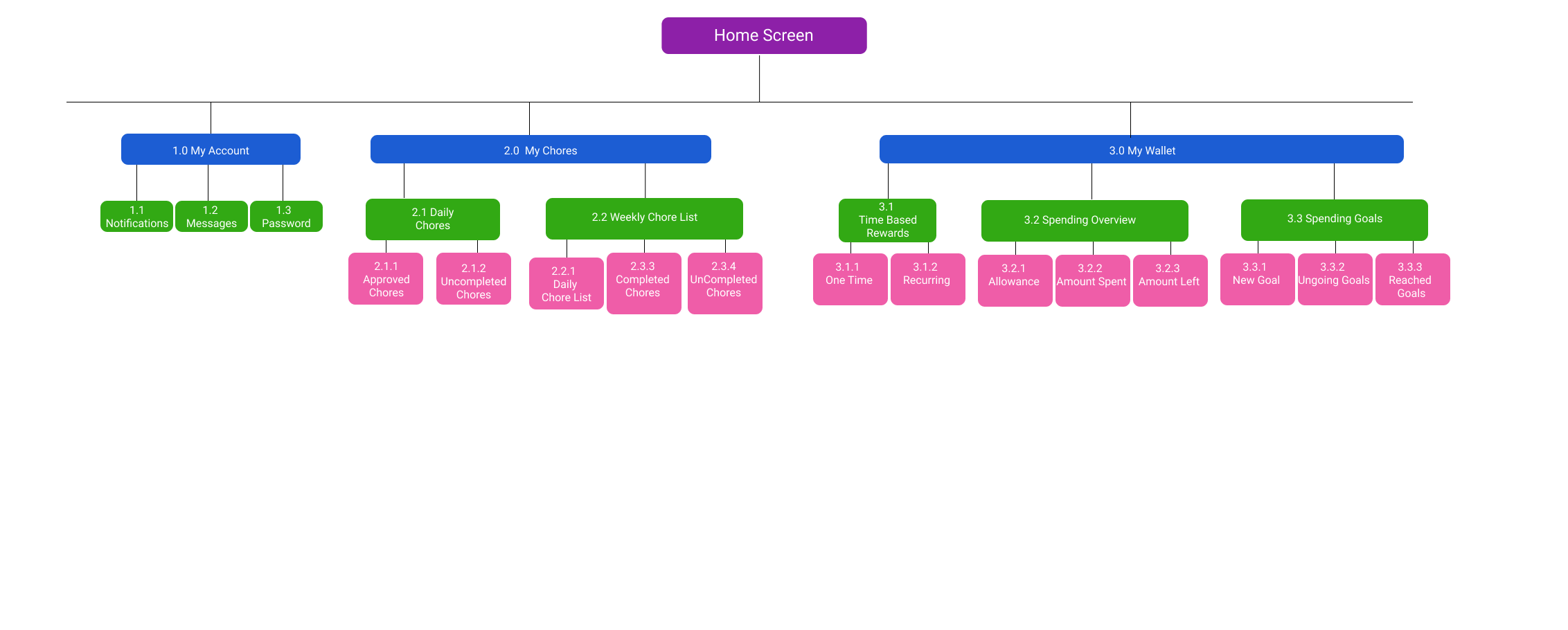 User Journey Maps
Rather than diving right into how Chorely will function, I continued to work in a big picture view as I mapped out the users' steps. I took this step to see if the persona's journey could be simplified to help them reach their most important goals.
To fully view user journeys, click here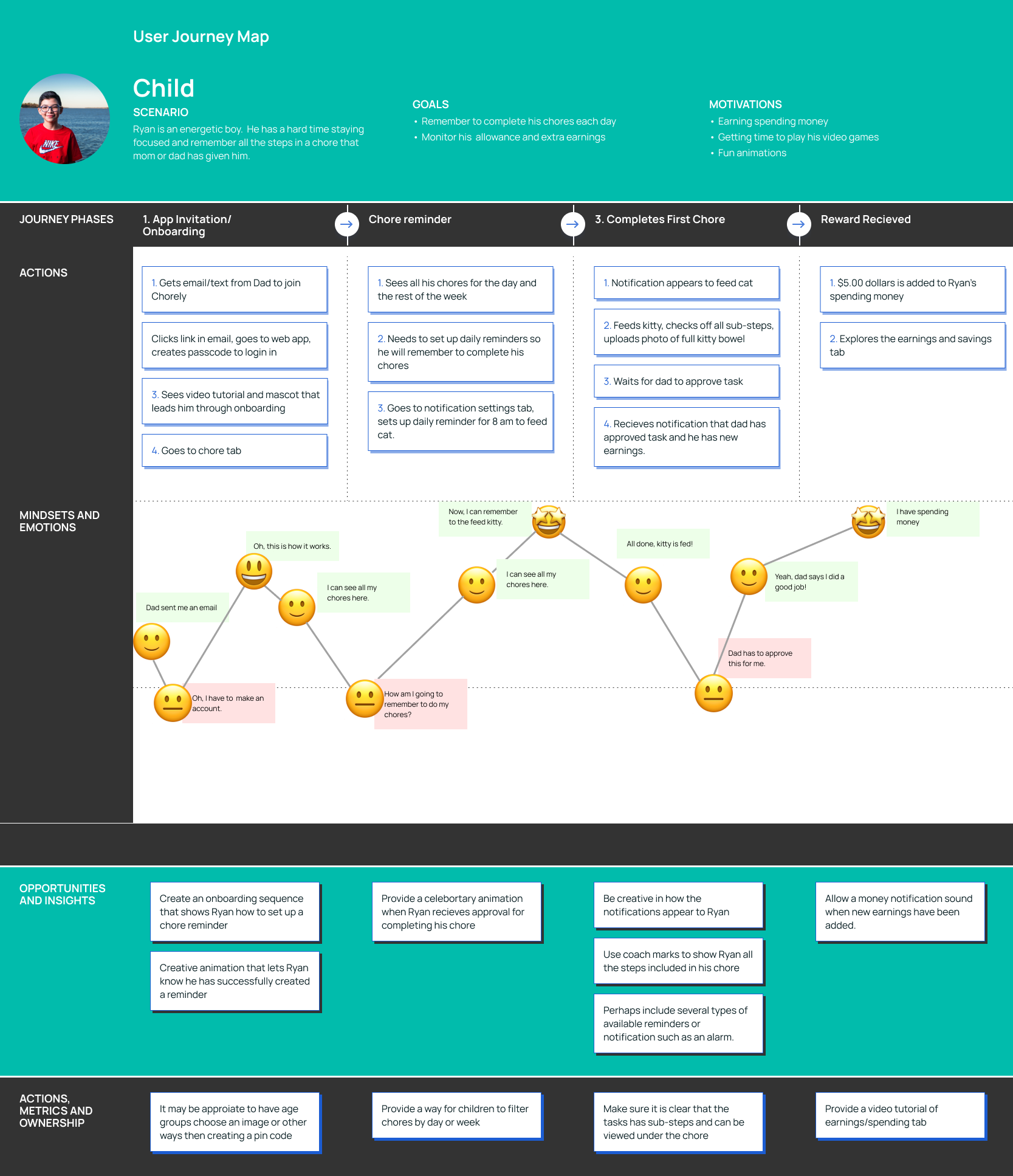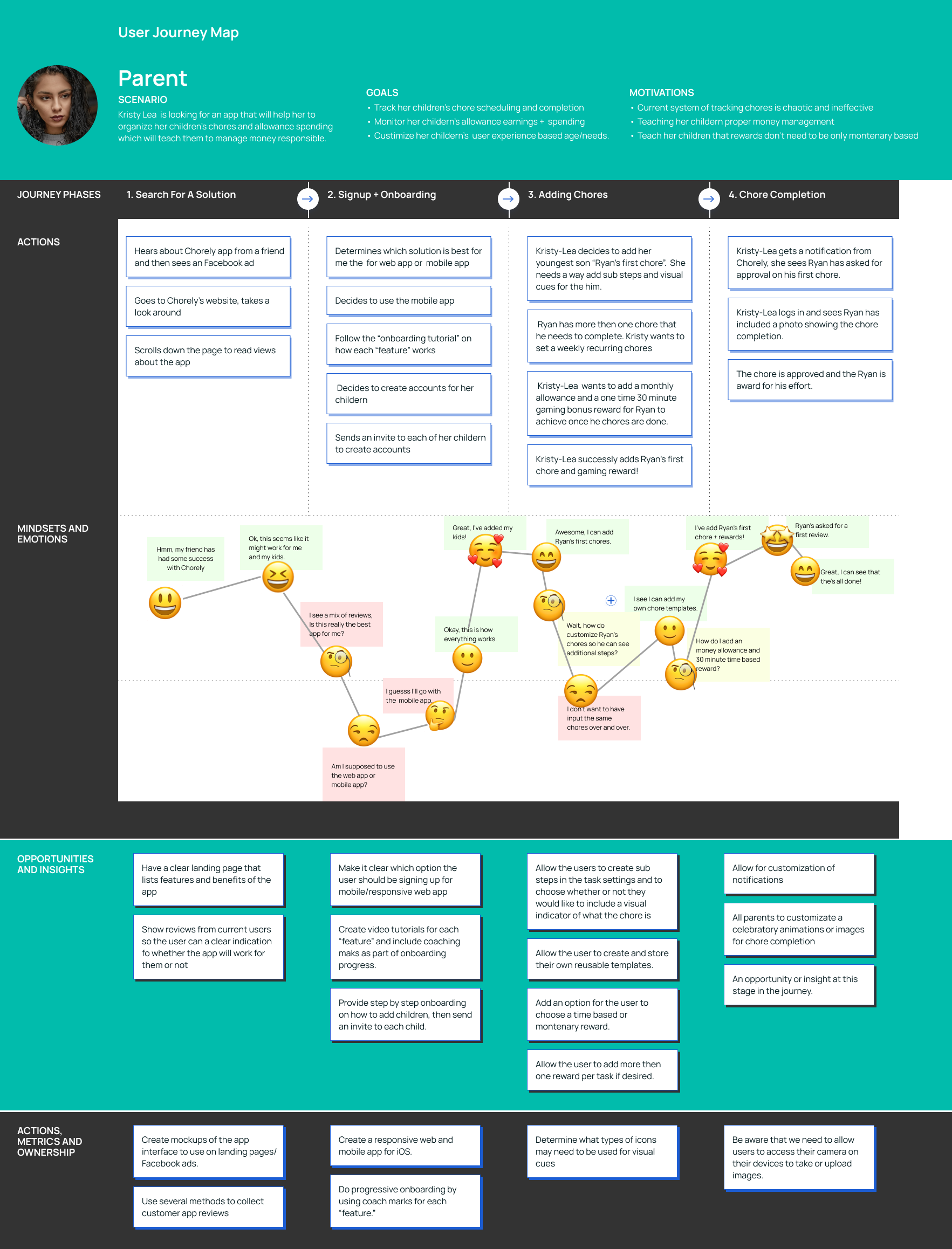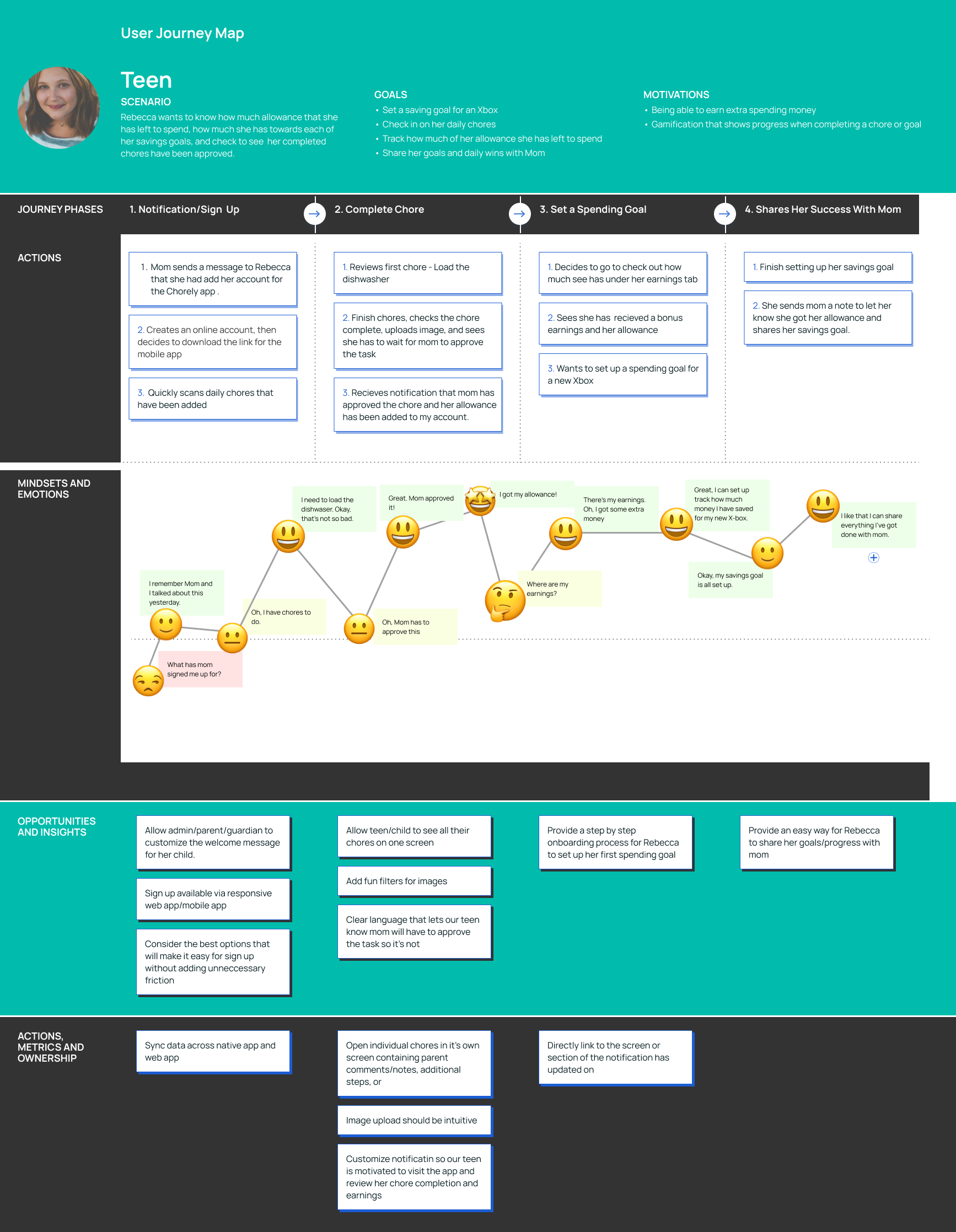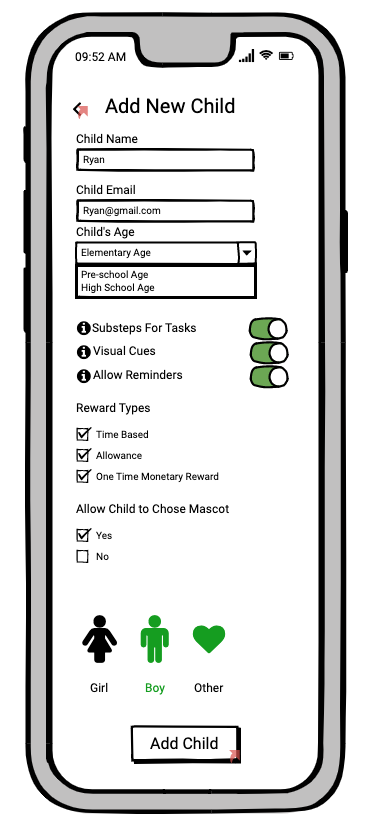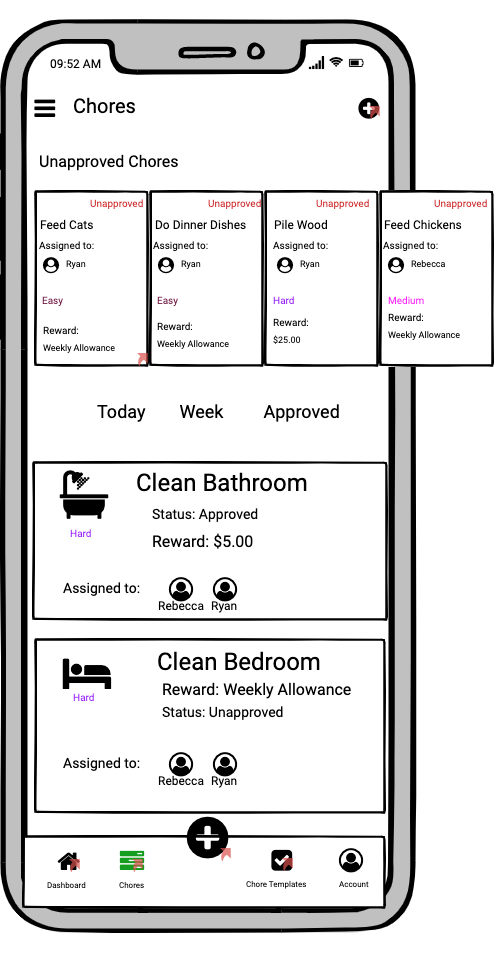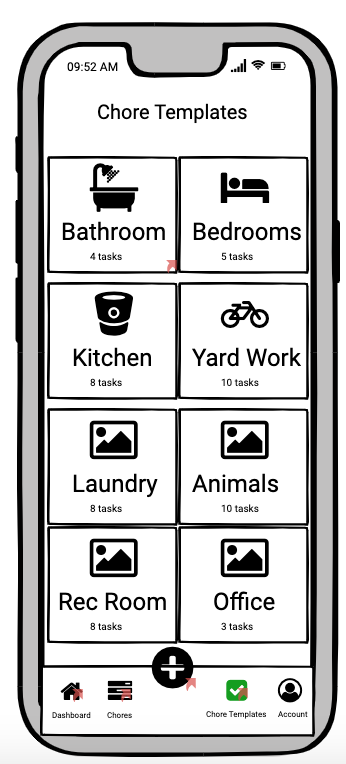 User Testing
I have conducted 3 rounds of usability tests to date using the Balsamiq and Figma prototypes. Future usability tests will be conducted to continue to flush out the onboarding, rewards and the chore template features.
Changes based on user feedback are shown below.